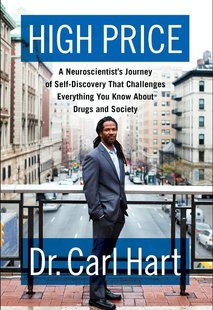 This Week's Episode
High Price (REBROADCAST)
July 03, 2015
This week we're revisiting an episode about the science and policy of treating drug addiction. We're joined by psychology professor and researcher Carl Hart to talk about his book "High Price: A Neuroscientist's Journey of Self-Discovery That Challenges Everything You Know About Drugs and Society." And we'll speak to Donald MacPherson, Director of the Canadian Drug Policy Coalition, about harm... Read More
Listen Now
Previous Episodes

Listen
June 26, 2015
Alzheimer's
This week we're learning more about Alzheimer's disease, from the perspective of a researcher and a patient. We'll discuss Alzheimer's and brain degeneration with Dr. Lili-Naz Hazrati, neurobiologist and researcher at the Tanz Centre for Research in Neurodegenerative Diseases at the University of Toronto. And we'll get a first hand account of living with the disease from journalist Greg O'Brien...
June 26, 2015

Listen
June 19, 2015
Biohacking
This week we're talking about do-it-yourself biology, and the community labs that are changing the biotech landscape from the grassroots up. We'll discuss open-source genetics and biohacking spaces with Will Canine of Brooklyn lab Genspace, and Tito Jankowski, co-founder of Silicon Valley's BioCurious. And we'll talk to transdisciplinary artist and educator Heather Dewey-Hagborg about her art projects exploring ou...
June 19, 2015

Listen
June 12, 2015
Galileo's Middle Finger
This week, we're talking about justice, truth and social activism, and how they influence scientists and their research. We'll spend the hour with Alice Dreger, professor of clinical medical humanities and bioethics at Northwestern University's Feinberg School of Medicine. We'll discuss her experience as a scientist and activist, and her book "Galileo's Middle Finger: Heretics, Activists, and the Search...
June 12, 2015
Science for the People News
Audio Extras: Ethan Siegel on Red Flags of Pseudoscience
June 06, 2015
A while back, we did an interview with the wonderful astrophysicist and science writer Ethan Siegel, about the so-called "Impossible Space Drive", which you can listen to in our archives as part of the episode "Impossible Space". During that conversation, we talked about red flags of pseudoscience and how a science-savvy layperson can sort the new, exciting, on-the-fringe science from the pseudoscience. We ran over time, so this section was ultimately cut out of the final episode that aired, but we wanted to share this "cutting-room floor" section with you.... Read More
Listener Mail: Where the "Bumblebee Can't Fly" Myth Came From
March 06, 2015
We recently had a great email from one of our listeners, Daniel Schechter in Spokane, Washington, who gave us the backstory about where the "science says bumblebees can't fly" idea came from. A few weeks back, Desiree Schell interviewed Dave Goulson, author of the book "A Sting In The Tale", and this topic came up. While neither our intrepid host nor our excellent guest knew the answer to this, one of our listeners sent us the following: I recently listened to the show about bees, and was surprised when the... Read More