Science to look forward to in 2022
#594
January 04, 2022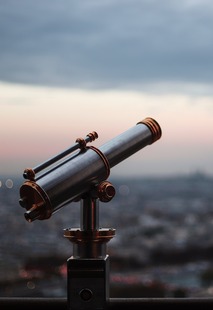 Image from Matthew Ansley on Unsplash
2021 has vanished, sucked into the black hole created by 2020. But while the pandemic continues, we are steadily climbing our way out. And what better way to gain momentum than to look forward at where science might be going? We've looking from the tiniest parts of the human body to the vast expanse of space to find out where we are going.
Related Links:
Guests:
Maryn McKenna
Sujata Gupta
Jeffrey Perkel
Riley Black
Lisa Grossman
Guest Bios

Maryn McKenna

Maryn McKenna is a senior writer at WIRED covering health, public health and medicine, including the Covid pandemic, and a faculty member at Emory University's Center for the Study of Human Health. Before coming to WIRED she freelanced for magazines in the US and Europe including Scientific American, Smithsonian, The New Republic, the Guardian, the New York Times Magazine, and The Atlantic. She graduated from Georgetown University, earned a master's degree in journalism from Northwestern University, and was a Knight journalism fellow at University of Michigan and MIT. She is the author of "Big Chicken: The Incredible Story of How Antibiotics Created Modern Agriculture and Changed the Way the World Eats.", "Superbug: The Fatal Menace of MRSA", and "Beating Back the Devil: On the Front Lines with Disease Detectives of the Epidemic Intelligence Service".

Sujata Gupta

Sujata Gupta is the social sciences writer for Science News. She was a 2017-18 Knight Science Journalism fellow at MIT. Her work has appeared in The New Yorker, Nature, Discover, NPR, Scientific American, and others. Sujata got her start in journalism at a daily newspaper in Central New York, where she covered education and small town politics. She has also worked as a National Park Ranger, completing stints at parks in Hawaii, California and Maine, and taught English in Nagano, Japan.

Jeffrey Perkel

Jeffrey Perkel has been a scientific writer and editor since 2000, when he left the lab to join the staff of The Scientist magazine as a Senior Editor for Technology. He holds a PhD in Cell and Molecular Biology from the University of Pennsylvania, and did postdoctoral work at the University of Pennsylvania and Harvard Medical School. Has has been Technology Editor at Nature since 2016.

Riley Black

Riley Black is the author of The Last Days of the Dinosaurs and other fossiliferous books, and her byline has appeared in publications ranging from National Geographic to Slate. When not writing about old bones, she can often be found with museum crews in their search for new fossils around the Southwest.

Lisa Grossman

Lisa Grossman is the astronomy writer for Science News. Previously she was a news editor at New Scientist, where she ran the physical sciences section of the magazine for three years. Before that, she spent three years at New Scientist as a reporter, covering space, physics and astronomy. She has a degree in astronomy from Cornell University and a graduate certificate in science writing from UC Santa Cruz. Lisa was a finalist for the AGU David Perlman Award for Excellence in Science Journalism and received the Institute of Physics/Science and Technology Facilities Council physics writing award. She interned at Science News in 2009-2010. She lives in Boston with her husband, her toddler and a dark matter cat.
Help Support
Science for the People
Science for the People is 100% listener supported. Help us keep the show going (and ad-free), and access bonus content and monthly live video hangouts!