Humanimal
#515
March 01, 2019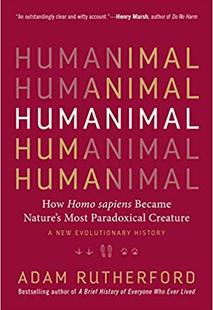 Are humans special? We feel special, like we're somehow different from the rest of life on the planet. But are we really? This week, we spend the hour with Adam Rutherford, science broadcaster, writer, and author of the book "Humanimal: How Homo Sapiens Became Nature's Most Paradoxical Creature - A New Evolutionary History". We discuss the commone ways we think humans are different from other creatures and how, sometimes, those ideas turns out to be not quite correct. Along the way we also think a little more carefully about some of the deeply ingrained and sometimes subtle ideas people have about evolution, and the connection between cultural and biological evolution.
Featured Book

Humanimal: How Homo sapiens Became Nature's Most Paradoxical Creature―A New Evolutionary History
Guest Bios

Adam Rutherford

Adam Rutherford, PhD, is a science writer and broadcaster. He studied genetics at University College London, and during his PhD on the developing eye, he was part of a team that identified the first known genetic cause of a form of childhood blindness. His previous books are "A Brief History of Everyone Who Ever Lived", which was a finalist for the National Book Critics Circle Award in nonfiction, and "Creation", which was shortlisted for the Wellcome Book Prize. He writes and presents BBC's flagship weekly Radio 4 program "Inside Science"; "The Cell" for BBC Four; and "Playing God" (on the rise of synthetic biology) for the leading science series Horizon; in addition to writing for The Guardian.
Help Support
Science for the People
Science for the People is 100% listener supported. Help us keep the show going (and ad-free), and access bonus content and monthly live video hangouts!