Heavy Metal Birds
#313
April 17, 2015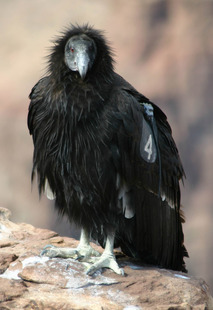 Image from National Park Service
Guests:
Matthew Podolsky
Alex Bond
Guest Bios

Matthew Podolsky

Matthew helped found Wild Lens in 2011 with the goal of bringing biologists and filmmakers together to produce films that would have an impact on critically important wildlife conservation issues. Matthew's first feature length film was "Scavenger Hunt". He has served as producer and co-director of the award winning documentary "Bluebird Man", is a producer on the "Eyes on Conservation" documentary web series, and serves as the host of the "Eyes on Conservation" podcast. Prior to his work with Wild Lens, Matthew spent four years working as a biologist with the endangered California condor, spending time with the wild population of condors in Arizona and Utah, as well as with the captive breeding program for condors in Boise, ID.

Alex Bond

Alex Bond is a Senior Conservation Scientist at the Royal Society for the Protection of Birds, Europe's largest environmental NGO. He works on conservation of species in the UK Overseas Territories, mainly birds of Tristan da Cunha in the South Atlantic. Previously he was a postdoctoral fellow at the University of Saskatchewan, where he conducted a study on mercury in ivory gull populations in the Arctic.
Help Support
Science for the People
Science for the People is 100% listener supported. Help us keep the show going (and ad-free), and access bonus content and monthly live video hangouts!