Happy As A Clam (Garden)
#523
May 10, 2019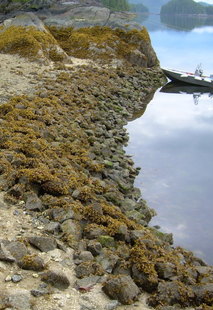 Image from Simon Fraser University
This week we're discussing clam gardens on the west coast of Canada and the US, and how indigenous people have been actively managing food resources in the area for thousands of years. Clam garden rock walls are thousands of years old, and people have been actively maintaining them up to today, but Europeans and the scientific community ignored their existence for a couple of centuries. We speak with Dana Lepofsky, Professor in the Department of Archaeology at Simon Fraser University, and Nicole Smith, a freelance archaeologist based in Victoria, about clam garden rock walls built into the coast of British Columbia. And we talk with Marco Hatch, Assistant Professor of Environmental Science at Western Washington University and member of the Samish Indian Nation, about indigineous marine management and conservation.
Related links:
Guests:
Dana Lepofsky
Nicole Smith
Marco Hatch
Guest Bios

Dana Lepofsky


Nicole Smith

Nicole Smith is a freelance archaeologist based in Victoria, B.C. She has been involved in archaeological research on the B.C. coast since 2000, collaborating most closely with First Nations communities, the Hakai Institute (enabled the clam garden dating work on Quadra Island), Parks Canada, and colleagues at various universities. Her research interests focus on clam gardens, fish traps, household archaeology, stone tool analysis, seeking out evidence for people on the coast 10,000+ years ago, and public education. Nicole believes that archaeological stories can inspire people, empower indigenous youth, and facilitate cross-cultural education, and is always delighted to share her experiences with students and teachers.

Marco Hatch

Marco Hatch is an Assistant Professor of Environmental Science at Western Washington University and is a member of the Samish Indian Nation. As a marine ecologist, he helps Native American students gain greater access to STEM opportunities while respecting coast Salish tribal people, landscapes, and seascapes. Dr. Hatch's work includes helping Native American students make the transition to graduate school in the geosciences, specifically connecting Northwest Indian College students to Western's Huxley College of the Environment. At WWU he has created a wonderfully diverse lab charged with preparing the next generation of environmental scientists and leaders through fostering respect for Indigenous knowledge and providing students with a solid background in scientific methods. His research focuses on the nexus of people and marine ecology, centered on Indigenous marine management.
Help Support
Science for the People
Science for the People is 100% listener supported. Help us keep the show going (and ad-free), and access bonus content and monthly live video hangouts!