From Nobel to Ig Nobel
#442
October 06, 2017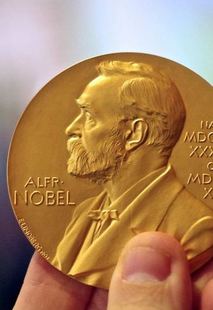 The Nobel prizes are, well, the Nobel prize of prizes! One of the most elite prizes in the world. But where did they come from, why do they matter, and how do they influence the practice of science? This week we speak with medical historian Nils Hansson and sociologist of science Harriet Zuckerman about the origin and legacy of the Nobel Prizes, and what might help them be more representative of science in the future. And then we talk with Marc Abrahams about another prize, the Ig Nobel prizes, which are supposed to make us laugh, and then think.
Related links:
Guests:
Nils Hansson
Harriet Zuckerman
Marc Abrahams
Guest Bios

Nils Hansson

Nils Hansson is a medical historian at the Heinrich-Heine-University Dusseldorf. He specializes in the study of those who have won the Nobel Prize in Physiology and or Medicine, as well as the runners-up, or as he calls them, the "highly-qualified losers" of science, including the scientists who developed the practice of anesthesia.

Harriet Zuckerman

Harriet Zuckerman is a sociology of science at Columbia University. She is the author of the 1977 book, "Scientific Elite: Nobel Laureates in the United States". This book, in addition to being a study of a scientific elite, constitutes a fascinating introduction to the phenomenon of multiple discovery, particularly in science and technology. Its findings, particularly in relation to "accumulation of advantage", are relevant to the question of eminence, exceptional achievement, and greatness.

Marc Abrahams

Marc Abrahams is the editor of the Annals of Improbable Research and the founder of the Ig Nobel prizes, begun in 1991. He also writes for other publications, on science, technology, medicine, and other topics. He is or has been a regular columnist for several magazines, including: Cómo Ves (in Mexico), The Harvard Business Review, Zeitwissen (in Germany), Le Scienze (in Italy), Etiqueta Negra (in Peru), Chemistry World, the technology magazine Embedded Systems Design, and the engineering magazine Design News, and was the back-page humor columnist for the late, lamented computer magazine Byte. He has also been a commentator for ABC-TV's World News Now and public radio's "Science Friday" program.
Help Support
Science for the People
Science for the People is 100% listener supported. Help us keep the show going (and ad-free), and access bonus content and monthly live video hangouts!