Emerging Infections
#258
March 28, 2014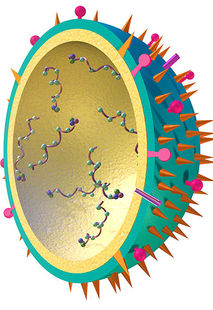 Image from National Institutes of Health
Guests:
Michael Osterholm
Benjamin Miner
Ross Lockwood
Guest Bios

Michael Osterholm

Dr. Osterholm is director of the Centre for Infectious Disease Research and Policy (CIDRAP), director of the NIH-supported Centre of Excellence for Influenza Research and Surveillance within CIDRAP, a professor in the Division of Environmental Health Sciences, School of Public Health, and an adjunct professor in the Medical School, University of Minnesota. In June 2005, he was appointed by the Secretary of the Department of Health and Human Services to the newly established National Science Advisory Board on Biosecurity. In 2008, he was appointed to the World Economic Forum Working Group on Pandemics. Previously, Dr. Osterholm served for 24 years in various roles at the Minnesota Department of Health, the last 1 as state epidemiologist and chief of the Acute Disease Epidemiology Section.

Benjamin Miner

Dr. Benjamin Miner runs a laboratory at Western Washington University in Bellingham, Washington. His research focuses on how organisms alter their morphology and behavior in response to different environmental conditions, and the life-history evolution of marine invertebrates.

Ross Lockwood

Ross Lockwood is finishing the last year of his PhD in Condensed Matter Physics at the University of Alberta in Edmonton, Alberta. Ross has a passion for scientific outreach and astronomy, and regularly participates in public and educational initiatives, communicates his understanding of science as a guest lecturer at the University of Alberta, and as a writer for the University of Alberta's Science Contours magazine. He has been selected as one of the participants of the upcoming HI-SEAS Mars Simulation mission, which begins on March 28, 2014.
Help Support
Science for the People
Science for the People is 100% listener supported. Help us keep the show going (and ad-free), and access bonus content and monthly live video hangouts!