Decolonizing Colonization
#390
October 07, 2016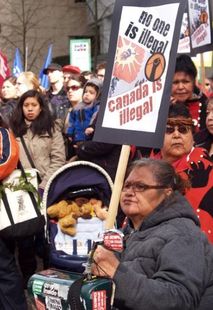 Image from David Ball
This week we're trying to wrap our head around our colonial history and the ideas of decolonization. We speak with Ryan McMahon, creator of the Indian & Cowboy podcast network, about what reconciliation and decolonization mean today and why they are necessary work still in front of us. And in a panel discussion from Skepchickcon at CONvergence 2016, panelists Emily Finke, Celia Yost, and Cassandra Phoenix think about how we can learn lessons from our colonial past so we don't repeat the same mistakes in the far future as we explore the stars and expand our reach.
Special thanks to Kevin Eldridge and The Flopcast, who helped us record panels when our equipment failed!
Guests:
Ryan McMahon
Cassandra Phoenix
Emily Finke
Celia Yost
Guest Bios

Ryan McMahon

Ryan McMahon is an Anishinaabe comedian, writer, media maker and community activator based out of Treaty #1 territory (Winnipeg, MB). Armed with a degree in Theatre and as a graduate of the prestigious Second City Conservatory, Ryan's comedic storytelling style is fast paced, loose and irreverent as he explores the good, the bad and the ugly between Indian Country and the mainstream. Since 2010, he has recorded 3 National comedy specials & 2 taped Gala sets at the prestigious Winnipeg Comedy Festival. In 2012, he became the first Native comedian to ever record a full mainstream comedy special with CBC TV. Ryan's latest full length CBC comedy special, Red Man Laughing, aired Nationally on CBC Radio 1 in 2015. McMahon's new live show, Wreck-On Silly Nation, is scheduled to tour across Canada in 2017. He is the creator of the Indian & Cowboy, the world's only listener supported indigenous podcast network.

Cassandra Phoenix

Cassandra wrote her thesis on the effects of colonization on Maori literature in New Zealand and Aboriginal storytelling in Australia. She is fascinated by the different ways cultures push against boundaries and where appreciation crosses the line into appropriation. She likes the possibilities inherent in liminal spaces.

Emily Finke

Emily is a forensic anthropologist and science communicator. She is particularly interested in how culture, history and biology come together to shape how we view the future. Her day job is as a QA Analyst for a software startup, so she spends a lot of time dealing with the shortcomings of the tech culture that pushes so much of our dialogue about the future.

Celia Yost

Celia is a visual artist by training and profession with a very broad scope. At this point her career has spanned everything from coloring books to decorative lamps. She is also a landscape painter interested specifically in human-altered landscapes and the ways that we impose ourselves on the land.
Help Support
Science for the People
Science for the People is 100% listener supported. Help us keep the show going (and ad-free), and access bonus content and monthly live video hangouts!